I hate everything in my closet right now.  I just sent three bags to thred up.  I am down to 35 hangers in the tiny closet I share with my husband.  The closet looks clean and organized and my weekend uniform of skinnies, everlane t-shirt, and infinite scarf is easily accessible.  (Thank you Mari Kondo!)  I love what I wear on the nights and weekends because I'm comfy and it's easy.
I have a hard time getting dressed for work.  I'm not a dress up kind of girl most of the time.  Have you heard of people wearing a "work uniform"  It's a cool idea.  Has anyone tried it?  I don't even know how I would pick such an outfit.  I've tried stitchfix and decided I am way too particular about fit and feel of material for it to work for me.  I literally can't stand shopping in a store anymore.  I'm old.  Nothing is worse than walking into a dark store blaring loud music or wandering aimlessly not sure what you're looking for.  I love shopping online, but I've had terrible luck lately and end up taking back 100% of the things I buy.  I haven't found anything I love that I can wear to work and still makes me feel like me.  I'm looking for something that is relatively plain, fits great, and can be dressed up with accessories.
So, I have been searching a lot online.  I found a few pieces that I love.  Problem.  I hate work clothes.   I love black, white, grey, blue, stripes, and polka dots.  Classic outfits with slight 1950's, 1960's, 1970's twists.  I also typically need a petite.  Any ideas anyone?!?!?  Here's what I found.
1.  Madewell Embroidered Stitchtake Dress
I'm slightly obsessed with this dress.  It's literally everything I could want in a dress.  Totally my style and I think I could make it work for work.  Problem:  I can't try it on and it's awfully expensive to chance an online order on…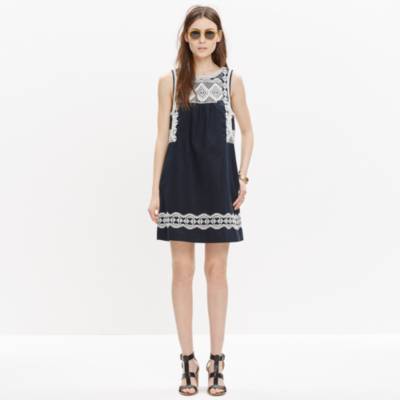 I actually already own this.  I bought it for a wedding and I love it.  Maybe a cardigan and some close toed wedges?  Does it work? (see what I did there?)
How about this cute skirt with one of my everlane t-shirts and close toed wedges?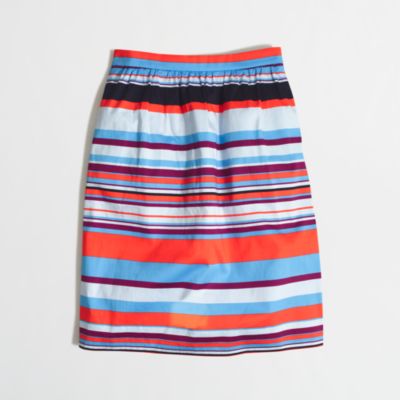 4.  Petite Printed Embroidered Tassel Top
This would be really cute with black pants and flats!